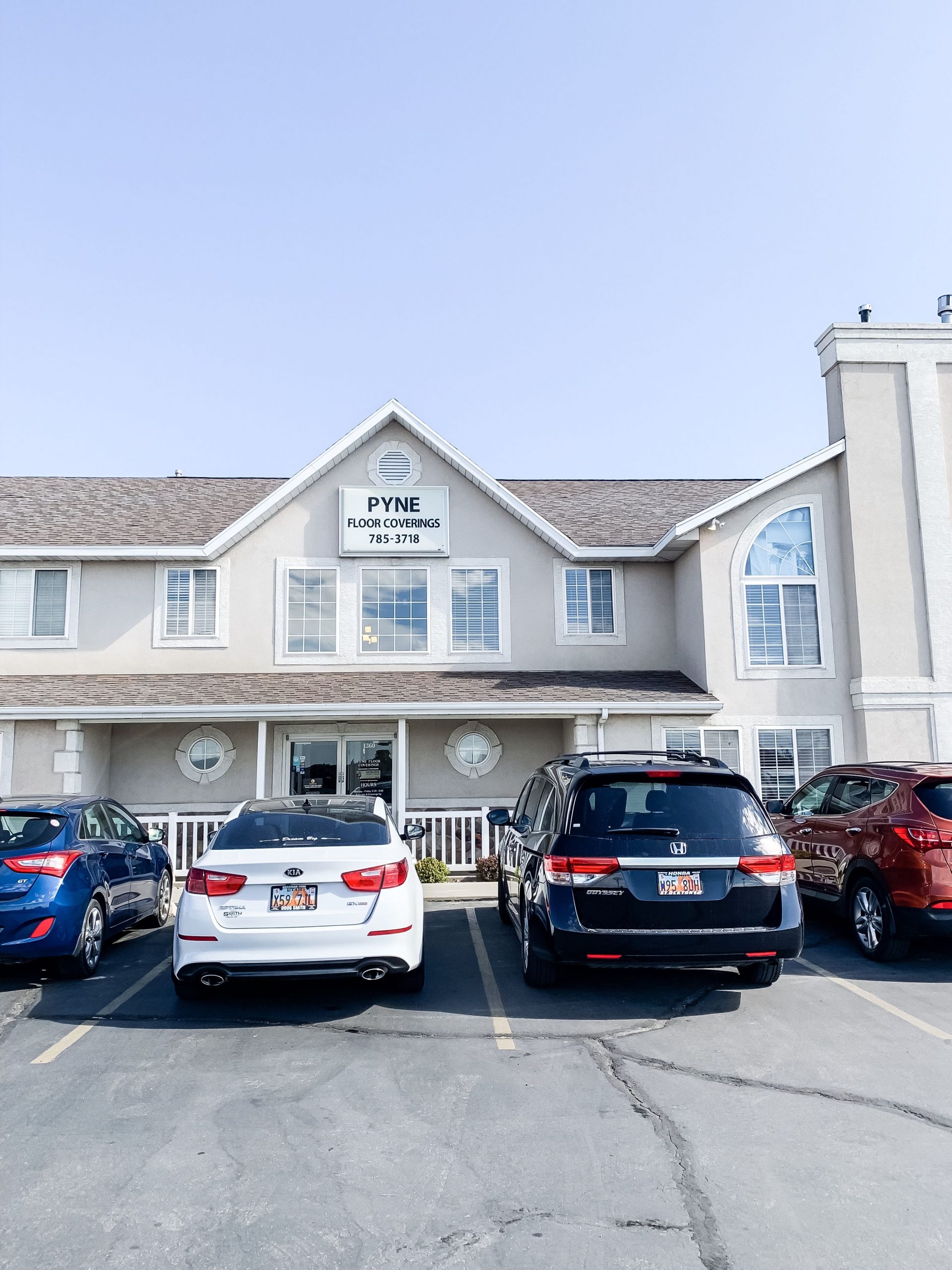 When the 4 older kids were little, the family business was run out of a little shop on 5th South in Provo.
Grandpa and Dad ran the shop and installed the floors while our sweet Mom worked from home, doing books in our unfinished basement. How she kept Grandpa and Dad on task, the bills paid, and us kids alive simultaneously is a mystery. The woman deserves a medal and a whole lot of chocolate.
The Old Shop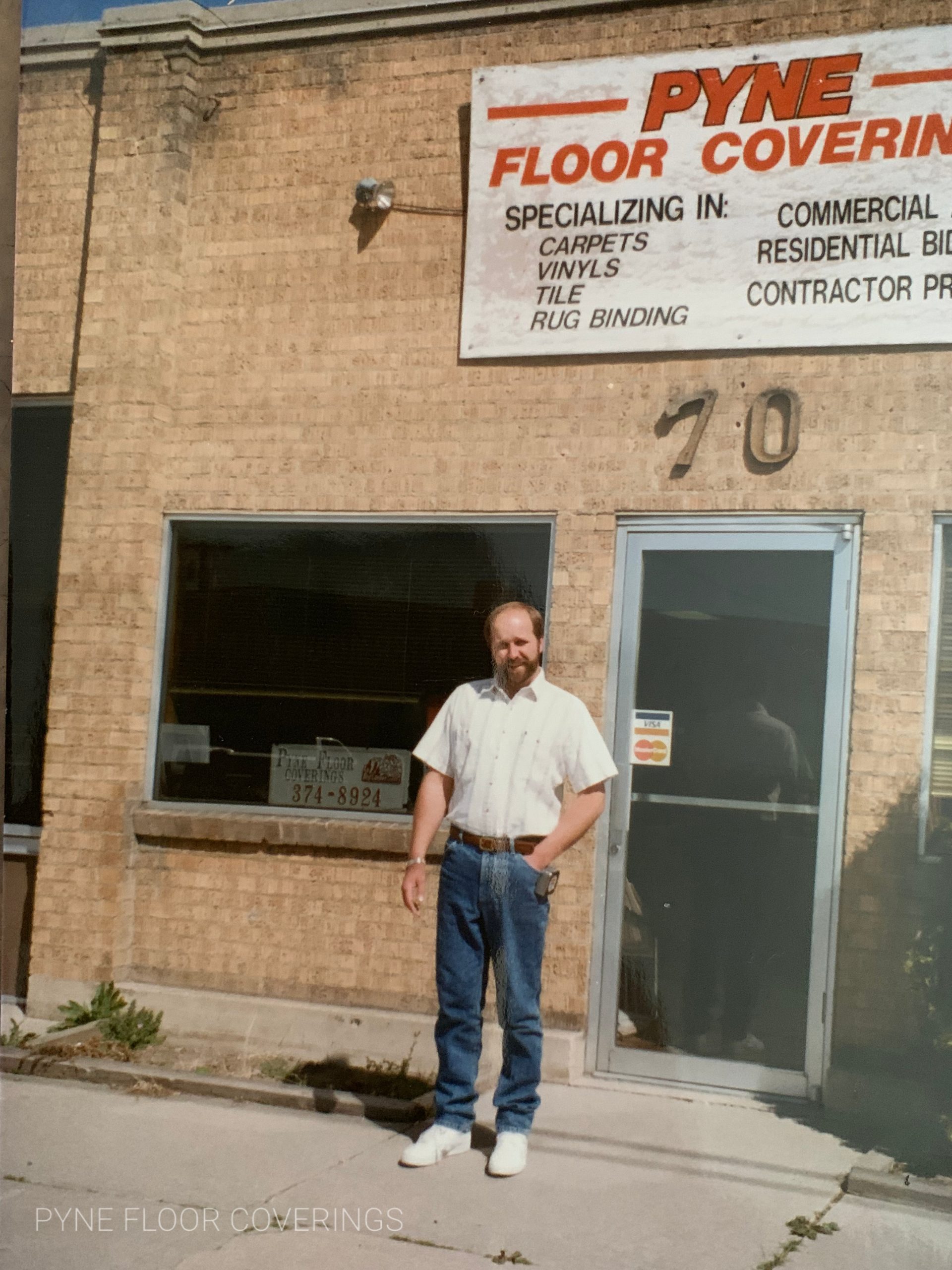 By 1994, 2 more brothers were added to the fam and the showroom in Pleasant Grove was built.
The new store felt like a palace compared to our old shop. We even had a warehouse and didn't have to keep the rolls of carpet pad in the dirty broken down shed anymore. Mom got to have a real office and it was only 15 minutes away from the house. Far enough so she could actually hear herself think but not too far that we could burn the whole house down while she was gone. Win/Win!
The Family Showroom in Pleasant Grove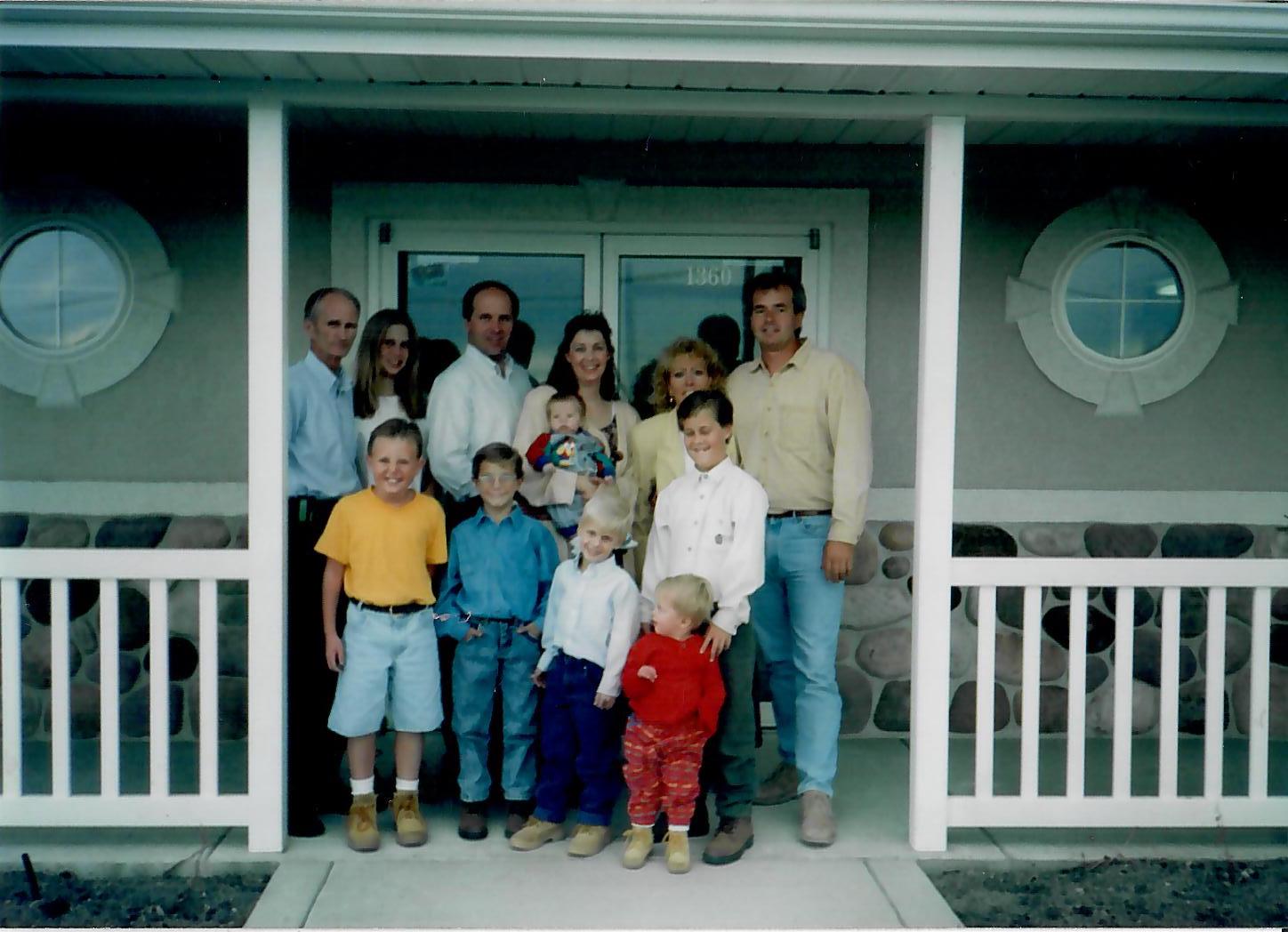 Fast forward a decade and business was booming! We outgrew the warehouse, so Dad and the guys turned it into office spaces. Then we leased a big warehouse over by the rodeo grounds. Life was good!
When the recession hit in 2008 and the construction industry ground to a halt, our family business took a major hit. In order to keep the store running, Mom found extra jobs, Dad and Grandpa went back to installing, the crew was whittled way down, and we vacated the big warehouse. Dad explains it as "getting down to brass tacks." We focused on the essentials, pulled together, worked like mad, and weathered the storm. That's what family does. It sure wasn't easy, but we made it through. And though we'd rather not have to do that again, we know we're stronger as a business and a family because of it. Life's funny like that, isn't it?
In the years since we've slowly built back up. Mom quit the extra jobs. Her office is now upstairs, along with our TRADES SOFTWARE and our brother Jake's TECH company. While so many things have changed, the showroom itself for the most part remained the same. Same ceramic tile on the fireplace. Same sample racks along the walls and same 90s style tole painted ivy in the bathroom. We grew and changed, but the showroom didn't. One morning last year, Dad got a wild hair. He walked into the showroom, started ripping stuff out, and one thing led to another. You just never know what's going to happen when he finds himself some free time and a few tools!
It's taken a while to tweak everything how we wanted, but the remodel is finally done!
Our Showroom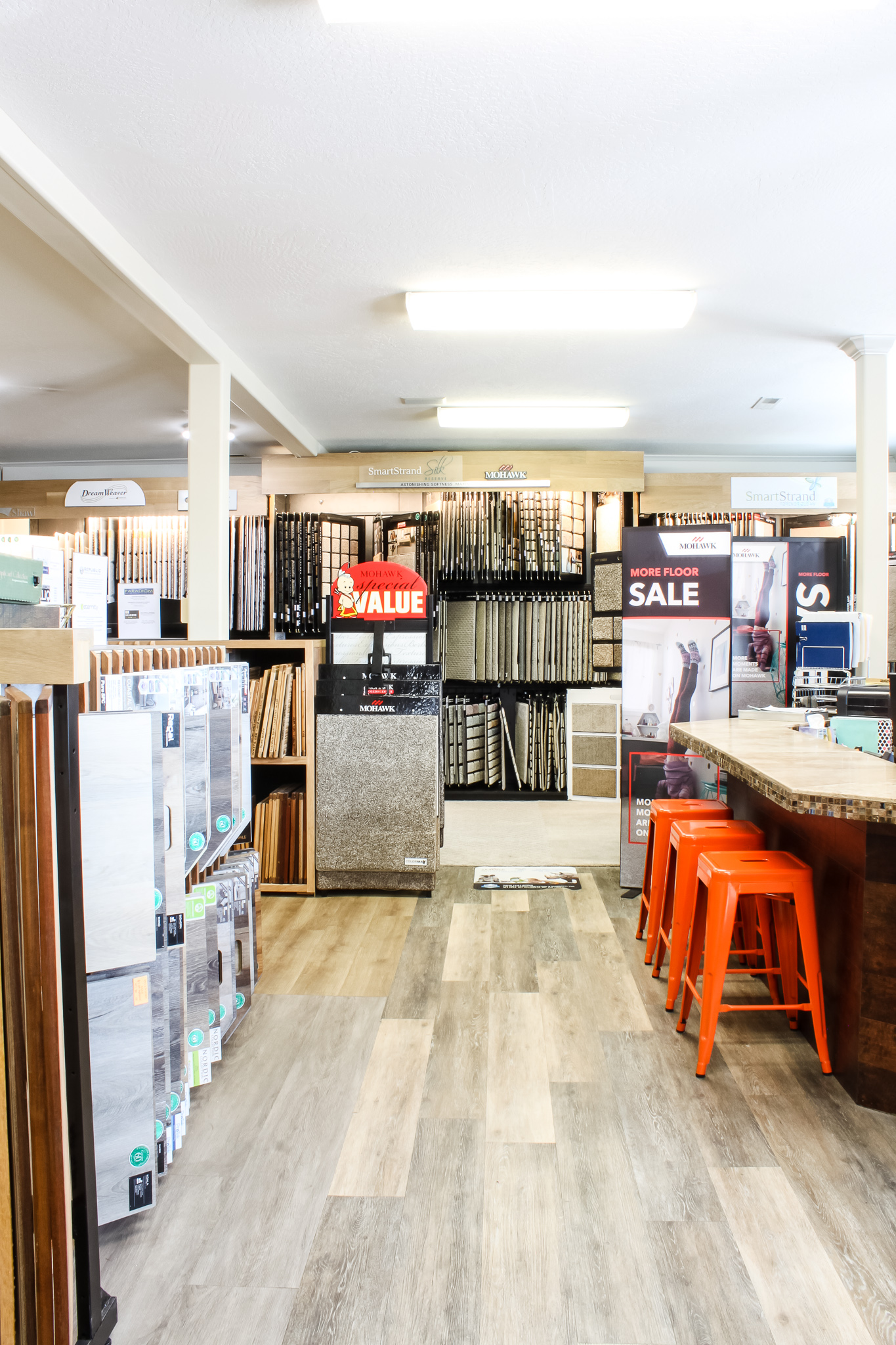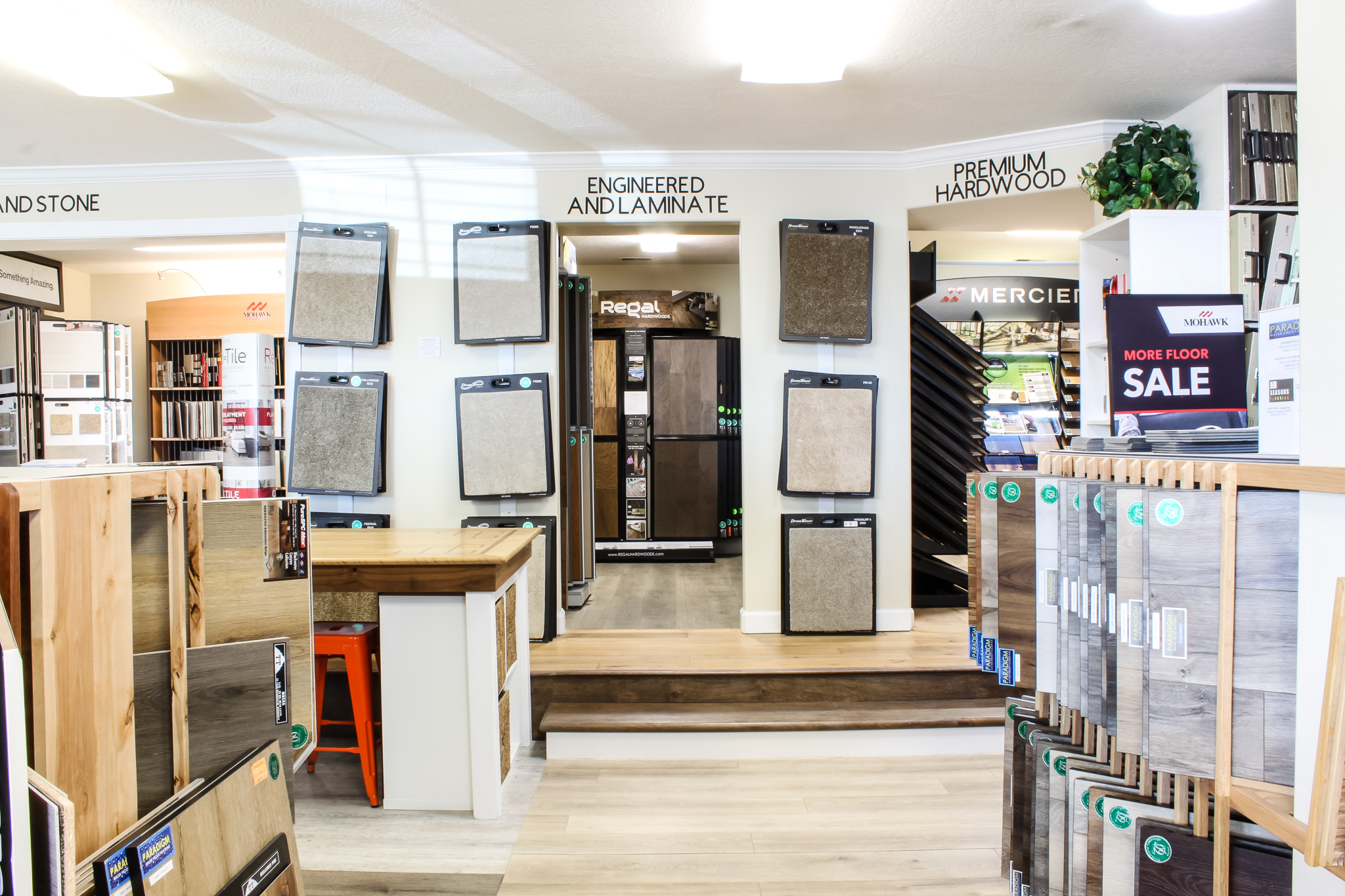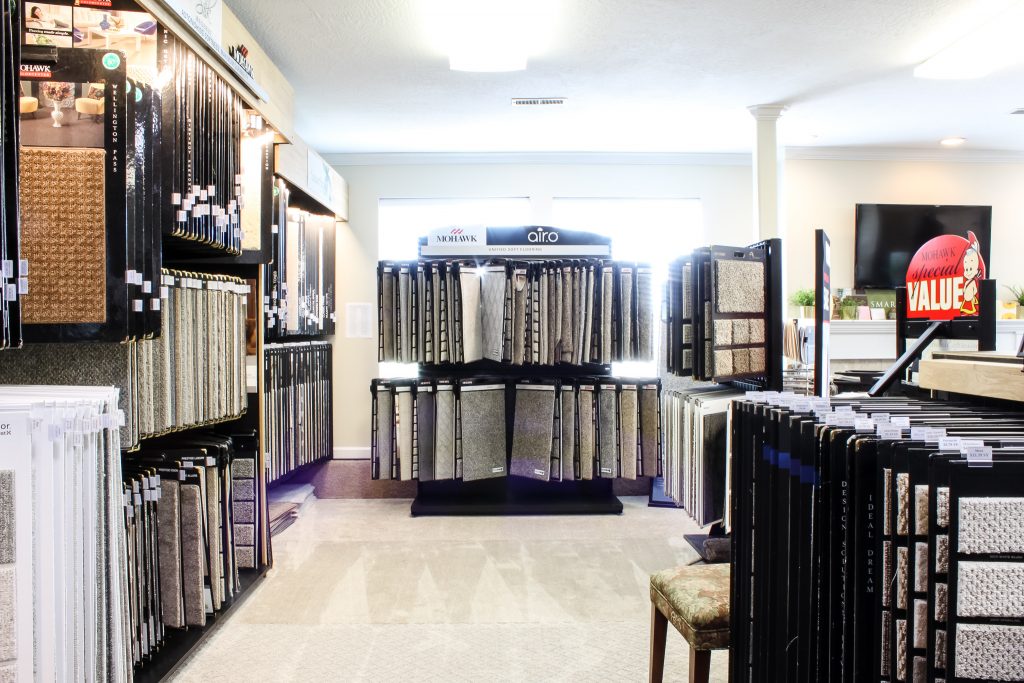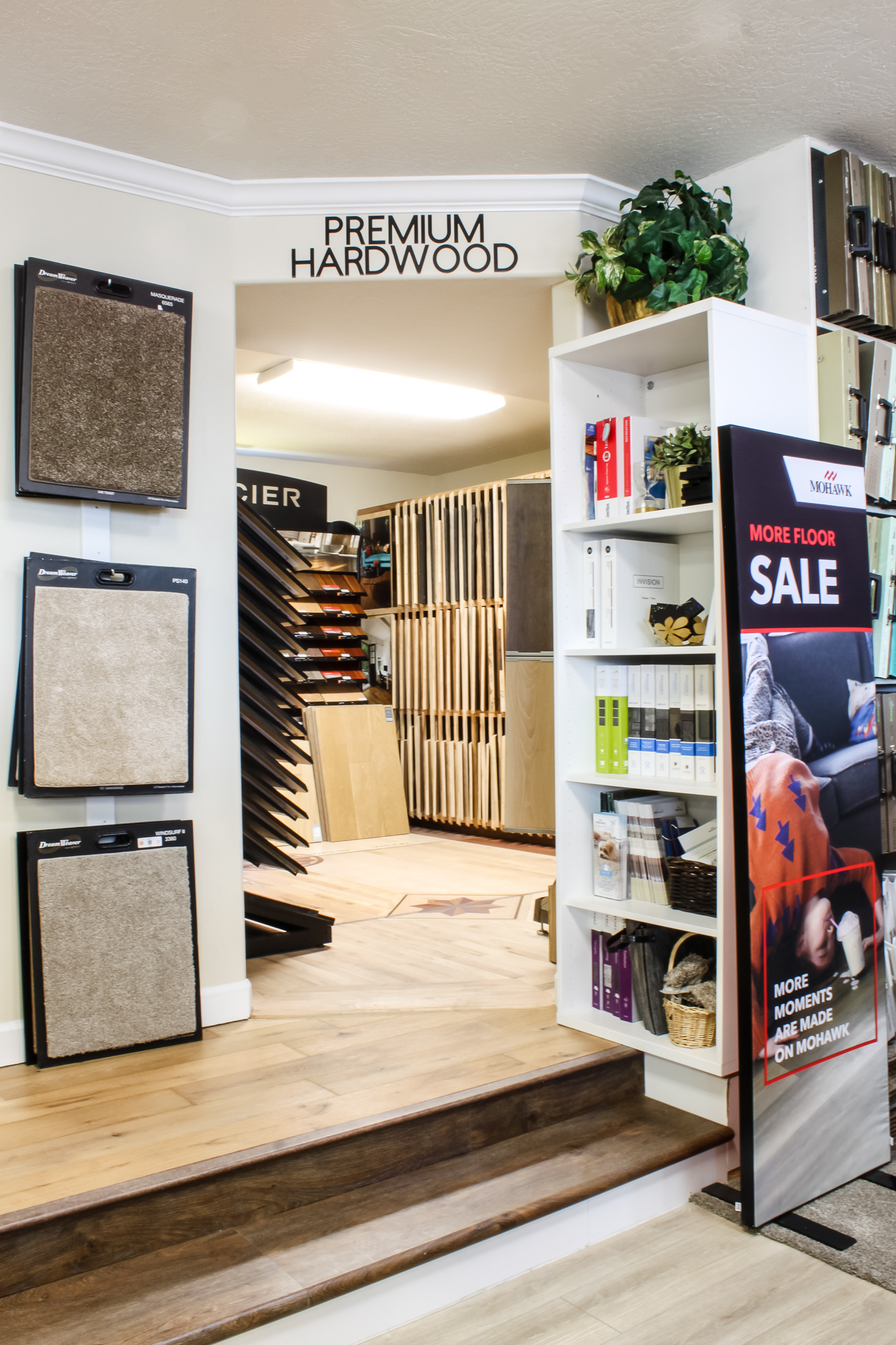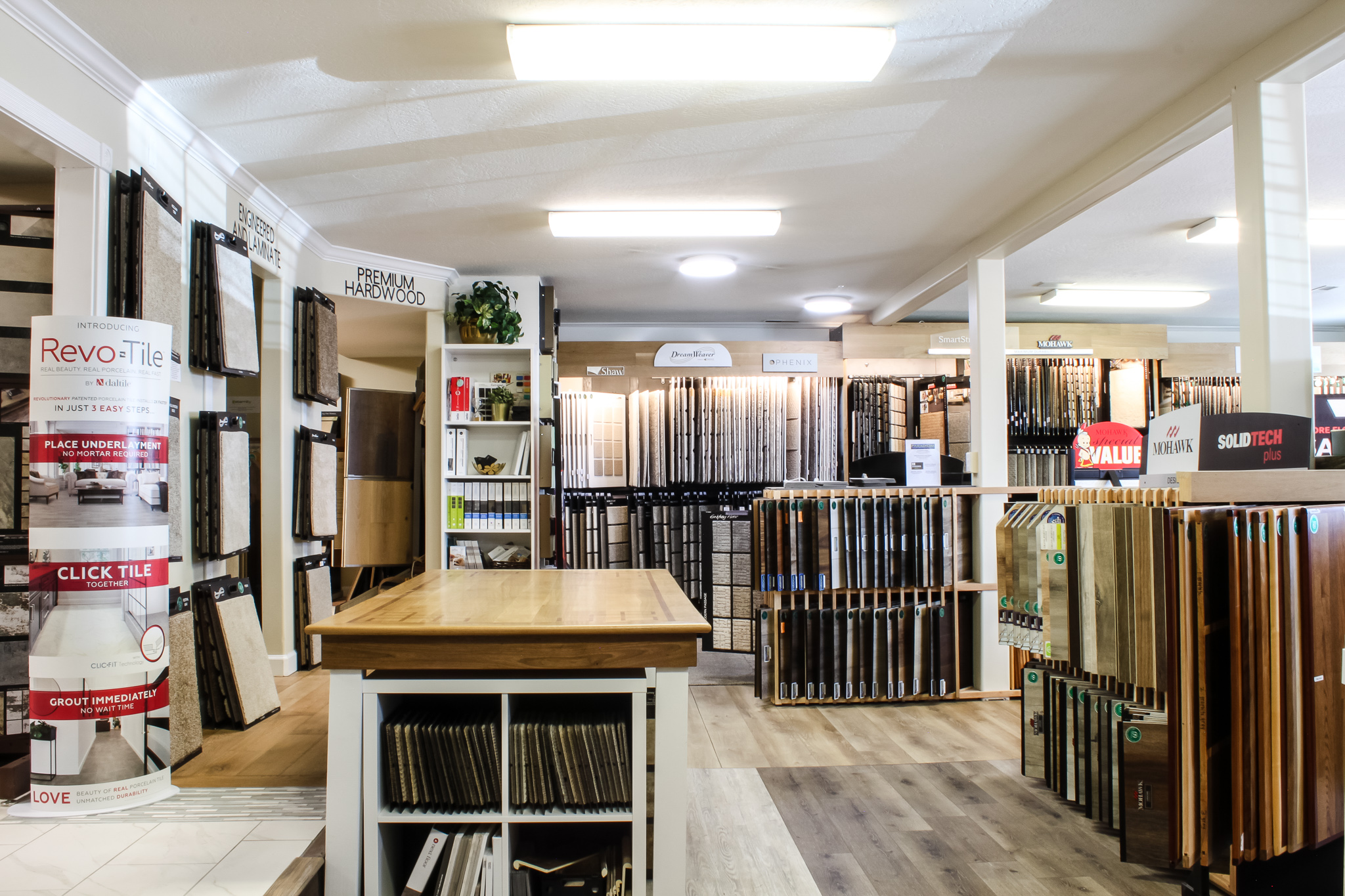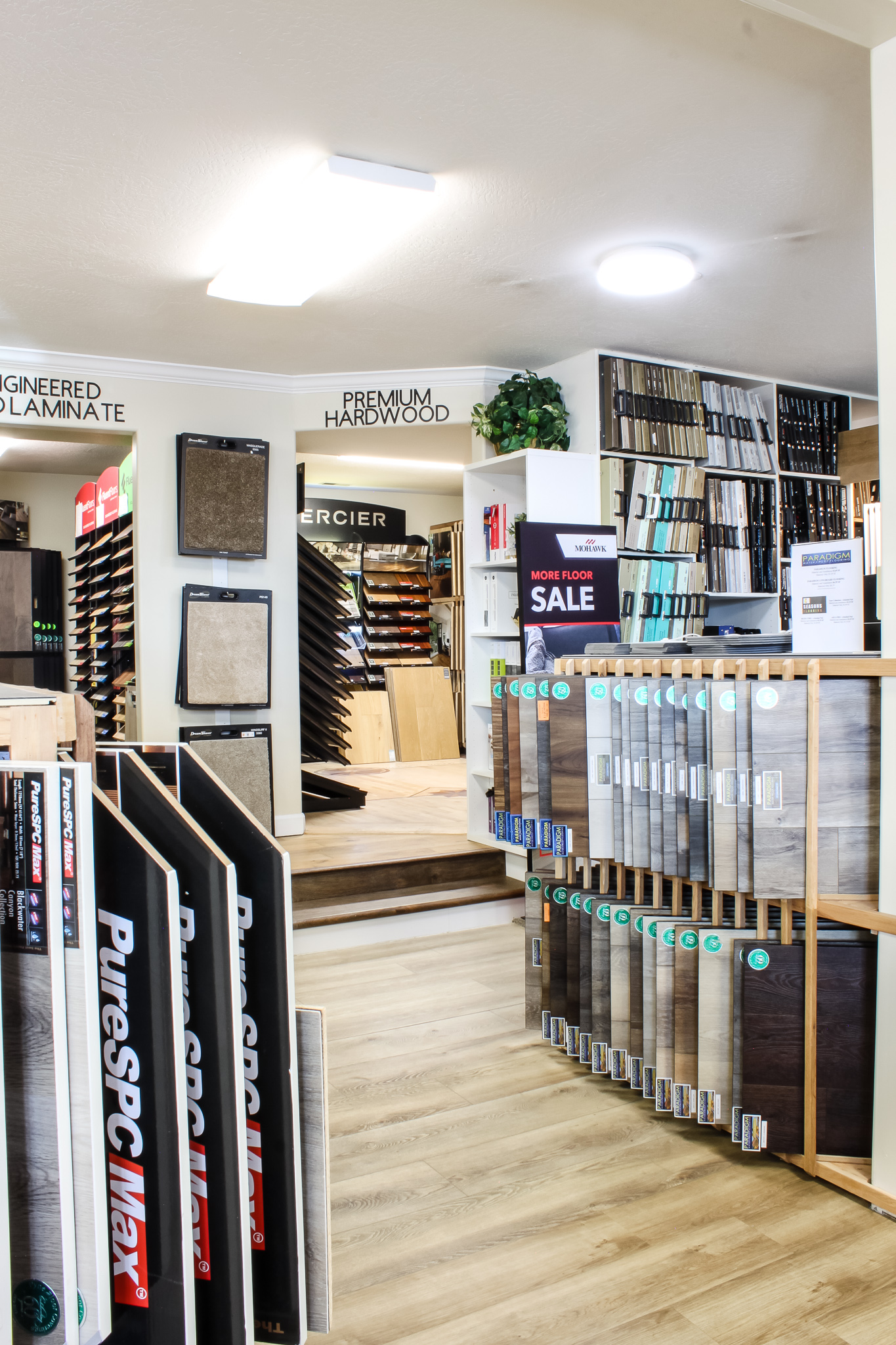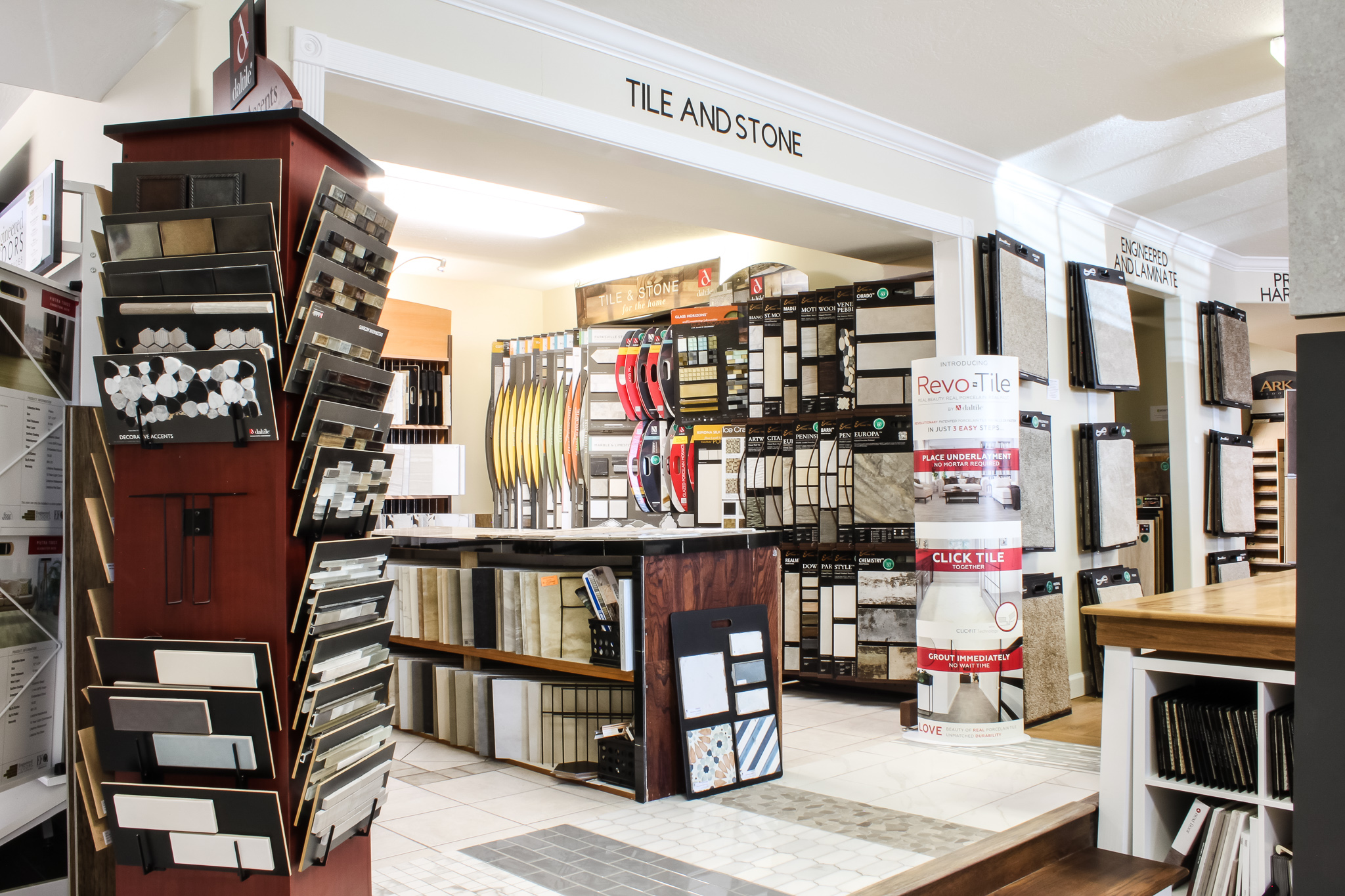 We installed different types of flooring all over the showroom, so you can really SEE what a product looks like, stand on it, and better visualize what it would be like in your own space. We've custom-built displays, added lighting, made custom wood samples, banished the 90's ivy, organized our hearts out, and Jeremy even built a custom table for laying out products and working through plans. All in the hopes of giving our customers a better buying experience.
We're really proud of where we've come from and where we are today.
For those of you who have been here for the long haul, thank you for choosing us over and over again. And for those of you who are new, welcome! We hope you feel at home and comfortable in our store. We're a 60+ year old, 4 generation family business focused on providing great service and quality flooring. We've rolled with the punches, we know the industry inside and out, and we love creating beautiful floors.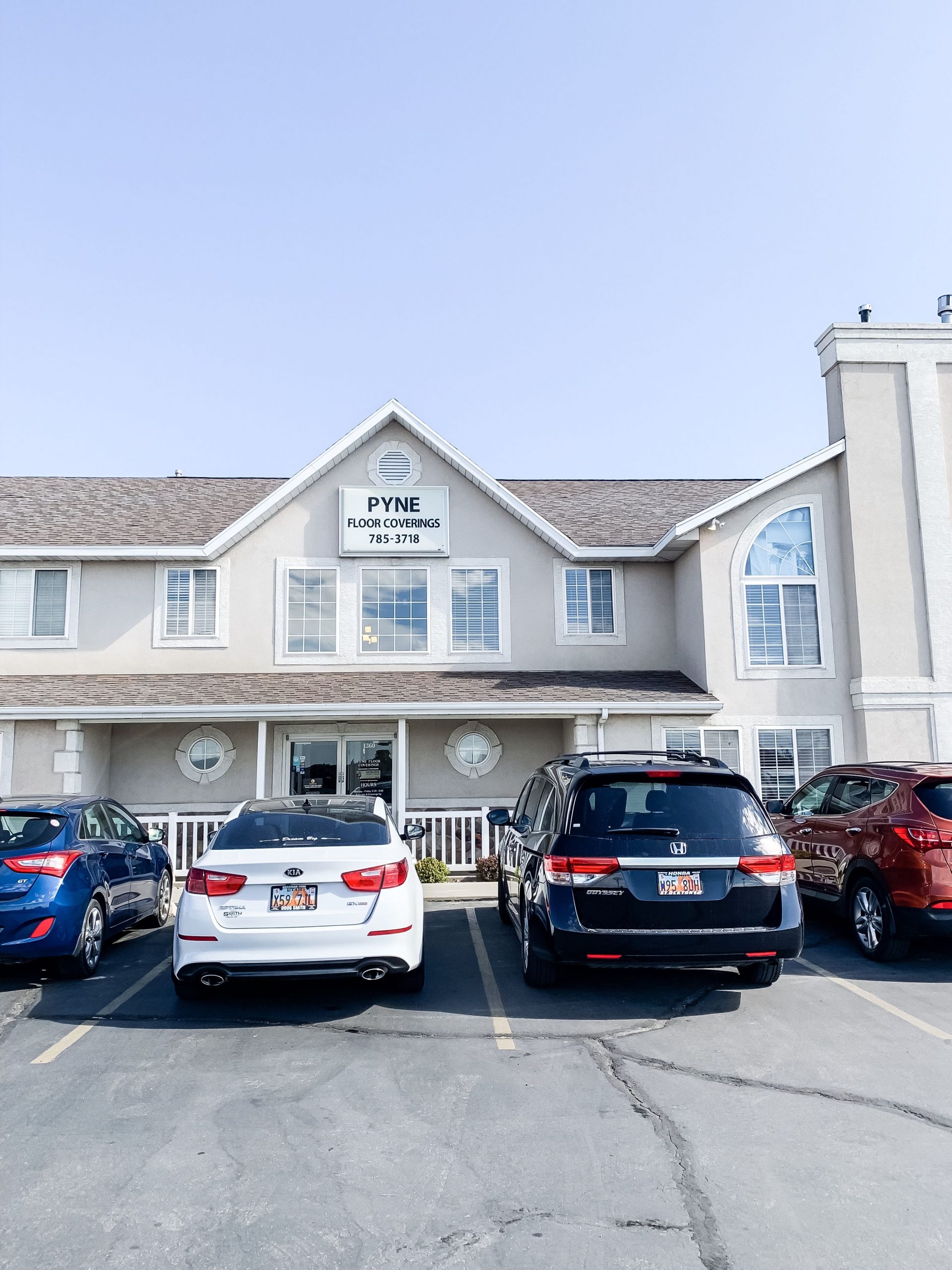 Stop by and see the "new" showroom today!
Let us FLOOR you with our service.
P.S. We figured if we were remodeling the showroom, we might as well remodel the website too. Because if you give Dad a hammer and some nails, he's going to tear into something. And if he tears into something, he's going to want to fix another thing. And… well, one thing leads to another.