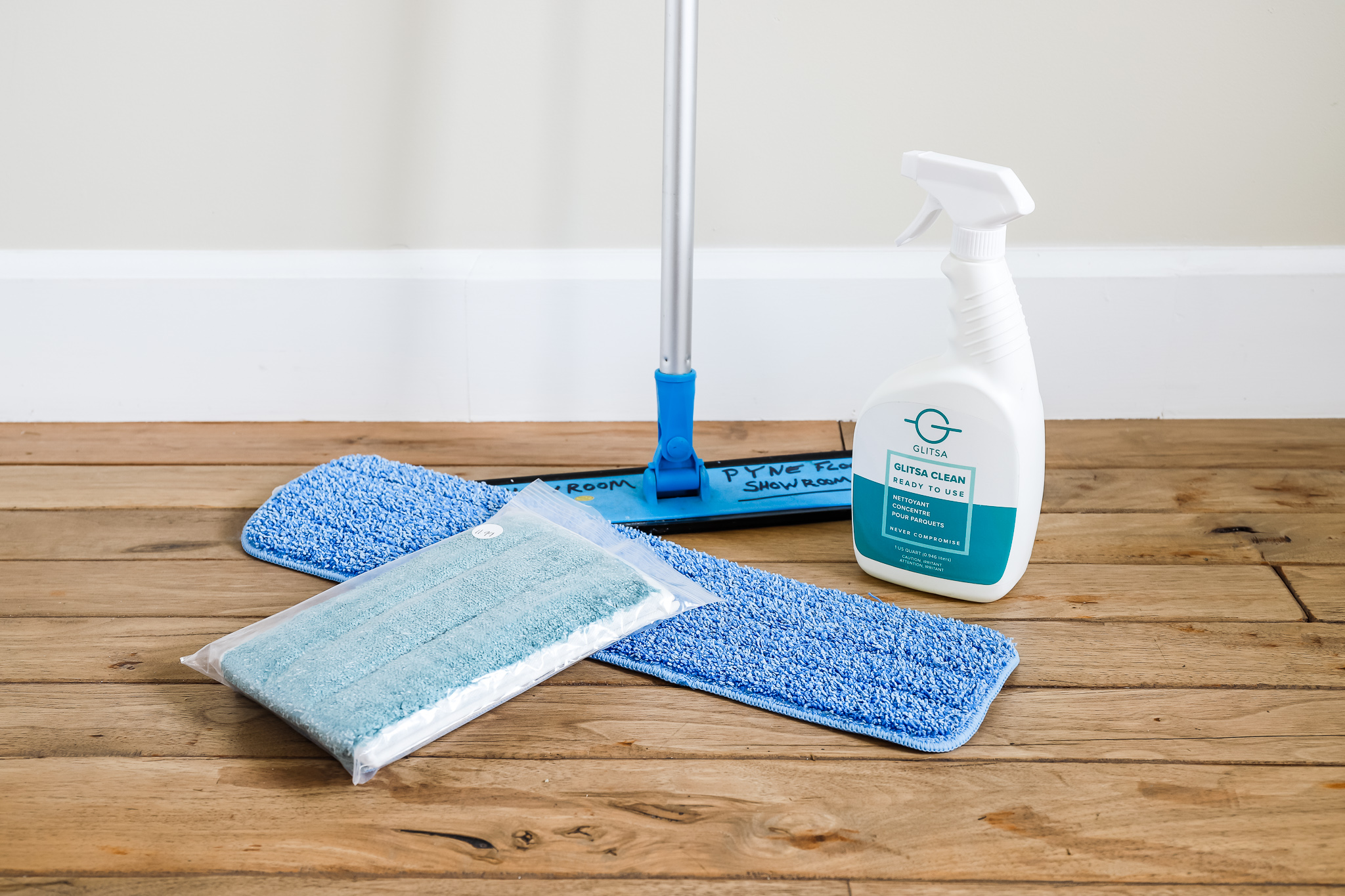 Before we dive into caring for wood floors, let's talk about some basics:
For the purpose of this post, there are two categories of wood flooring- unfinished and prefinished
Unfinished is just that, a solid piece of raw wood that is installed, sanded, stained, and finished on site in a client's home. Unfinished or "Sand and Finish" wood can be sanded, stained, and refinished several times.
Prefinished comes sanded, stained, and finished from the factory.
Both unfinished and pre-finished have their pluses and minuses. Buying unfinished flooring gives you the most freedom, options, and control when it comes to design but it can be quite messy to install and needs time to dry once coated. Prefinished can be installed and walked on that same day. However, the choices of color and sheen aren't customizable like sand and finish floors.
There are several sheens of finish ranging from gloss, semi gloss, satin, and even matte
Gloss is shiny like a gym floor and reflects light. Matte is the least shiny and doesn't reflect much light while semi is somewhere in the middle. Generally speaking, the less shiny the less you will notice imperfections and wear, like dings and scratches. Keep in mind that all levels of sheen will dull over time.
So now you've picked out the perfect wood floor, it's been installed, and it's time to clean it. Stumped on how?
We're here to help!
Follow manufacturers directions
Before we go any further, open another tab and pull up your flooring manufacturer's website.
Each wood floor brand will have manufacturer's instructions on how to care for their specific product on their website. By following their care and cleaning recommendations you are most likely to achieve the best results. It is important to note that disregarding the manufacturer's instructions could cause you to void your floor warranty!
You've invested good money in your new floors. Here are some dos and don'ts to help you protect that investment.
DO:
Keep floors free from debris. Sweep, dust mop, or vacuum (without a beater bar) regularly
Use rugs, especially in volatile areas like near the kitchen sink or front door. However, do not put rugs down for 4-8 weeks after installation of floors in order to allow the finish to properly cure
Trim pet's nails to avoid scratching floors
Damp mop, when needed, using a well wrung out microfiber mop and a ph balanced cleaner specifically made for wood floors
Mop with the direction of the wood grain to minimize streaking
Use a humidifier during cold, dry months when the heater is used often
Adhere felt pads or protectors to the bottom of furniture
Wipe up spills immediately
To remove hardened on gunk, spray a bit of cleaner on the spot and gently scrape away with a plastic dish scraper or credit card. Then wipe away any residue with a soft damp cloth
If possible, remove shoes inside the house. A large portion of dirt, allergens, and bacteria in homes comes from shoes. Rocks and dirt on the bottom of shoes often cause damage to wood floors
DO NOT:
Don't wear heeled shoes in the house, especially stilettos. High heels leave divets in wood that must be sanded to fix
Don't vacuum with the beater bar spinning
Don't clean wood floors with vinegar (or lemon, for that matter)- vinegar is an acid that eats away the finish. This is called etching. It dulls, damages, and discolors the floor over time. In many cases, using vinegar can also void your warranty!
Don't use oil soaps, polish, waxes, or wax products, as these leave behind a film that attracts dirt and dulls the finish
Don't use harsh cleaners like bleaches, ammonia, detergents, scouring powders, or pads
Don't use products containing acrylics or urethane polish
Don't let water, fluid, or pet accidents sit on the floor
Don't use a sopping wet mop. Remember this formula: Wood + Water = Warping
Don't steam-mop wood floors! Wood + Water + Heat = Ruined wood floors & lots of tears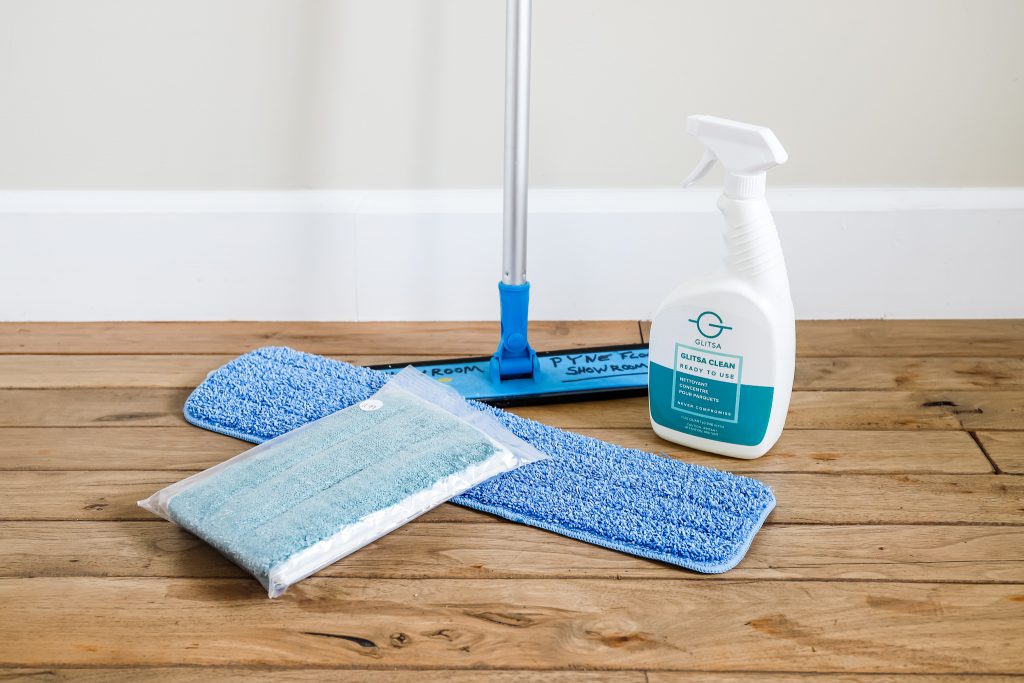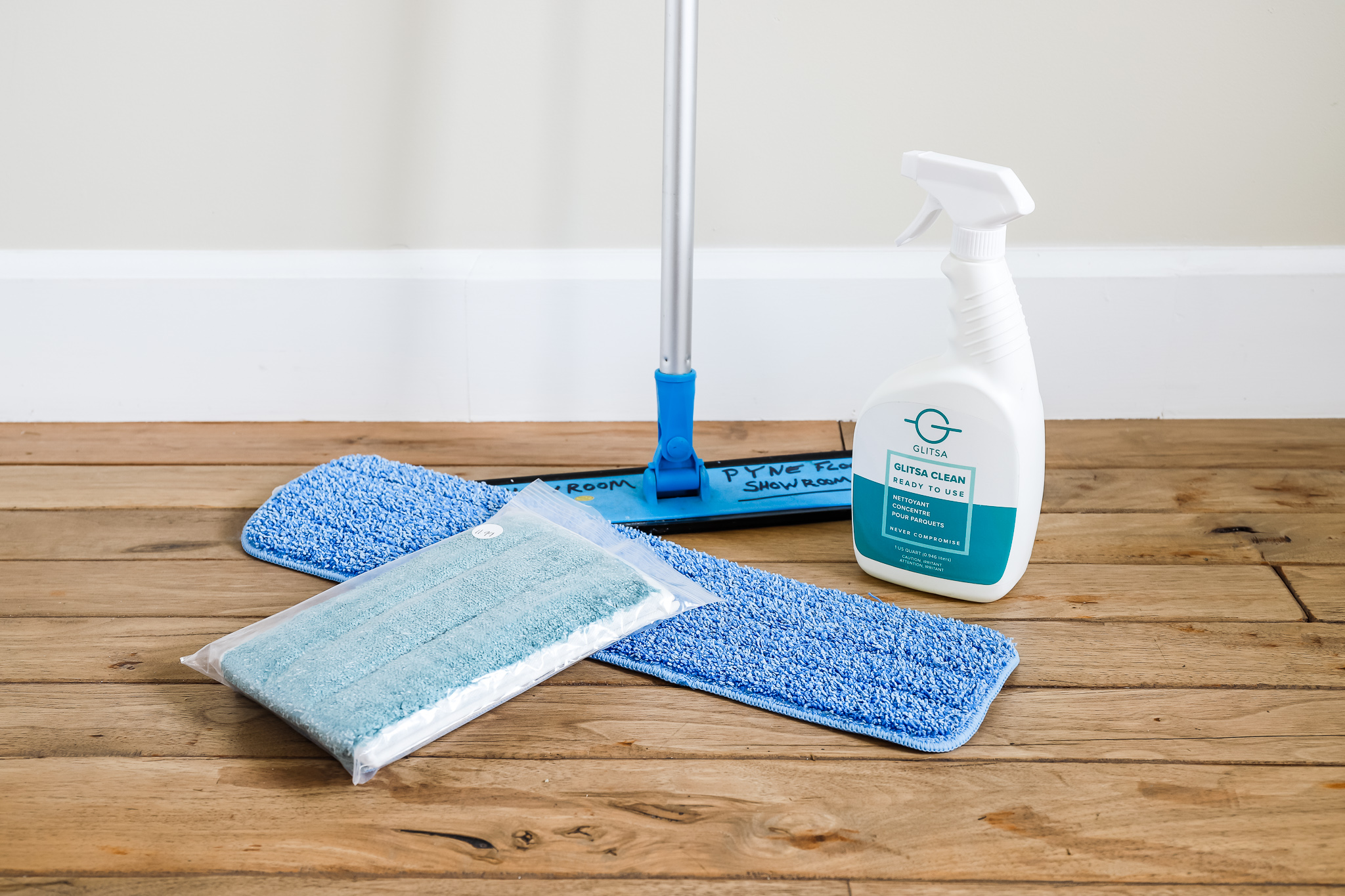 How to mop a wood floor:
Sweep floor of debris
Wet a microfiber mop head with hot water and wring out well
Place mop head on mop
Spray mop head 2-3 times with a ph balanced cleaner
Mop an area
Rinse then wring out
Repeat steps until the whole floor is clean
Toss mop head into the washing machine for next time
When properly cared for, wood floors can last the life of your home. Warm, beautiful, classic, inviting, and always in style. Here at Pyne Floor Coverings, wood will forever be our favorite flooring. Nothing else comes close.
If you've got questions on how to care for your wood floors, need cleaning supplies, or want to check out flooring options, please stop by our showroom!